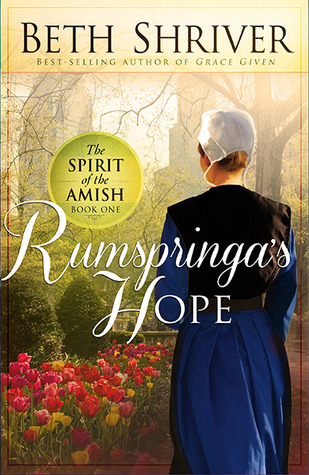 Beth Shriver has written a very unique book with "Rumspringa's Hope"
Typically when you read a book about the Amish, Rumspringa is part of it but not the focus.
Even with stories where the main conflict hinges on that mysterious time in an Amish teens life, we only get a glimpse of what goes on during that oh so secret period.
And that is exactly why we "Englisch" are so fascinated by it, why we have reality TV shows that imitate it, why we read about it in almost every Amish book on the market… because it is intriguing to us and yes… because it is such a mystery.
And that is only part of the reason this  book will be a hit!
Beth Shriver has focused almost entirely on what goes on during the Amish rumspringa… at least as far as her own characters go.
It is like getting a glimpse at a forbidden world and I know I will not be the only one to keep reading out of sheer curiosity!
It's also exciting to see that this is book 1 of the new series! Readers love series!
Admit it – you know you do!
What fun is it to get attached to characters when you only to get to connect with them in one book? It's not and that is why most authors of Amish fiction are smart to make their books into series – because they know their readers LOVE THEM!
Here is what Realms has to say about "Rumspringa's Hope":
Although promised to the widowed neighbor Zeb, Emma is considering leaving her Amish community to watch over her younger brother Mark when he leaves for Philadelphia to explore the outside world during his Rumspringa.

There, she reconnects with her former beau Caleb, who protects the Amish teens, introducing them to his life evangelizing and helping the homeless. Unbeknownst to Emma, Caleb is glad for the opportunity to spend time with her and hopes to win her back.

Struck by the power of evangelism and outreach, Emma begins to feel a draw to Caleb's way of life. When she doesn't return home when she promised, Zeb goes to the city to find her, forcing Emma to choose in which of their two worlds she really belongs.
You can find more information and/or buy the book from these popular sites.
GOODREADS   CHARISMA HOUSE/REALMS   BETH'S WEBSITE
AMAZON   BARNES & NOBLE   CHRISTIANBOOK
I received this book free in exchange for an honest review
from the Booketeria blogger program.
GOD BLESS
and
HAPPY READING!
I have no control over the ads you may see below.
I am sorry if any of the content is inappropriate.