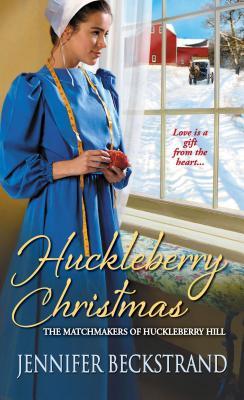 WARNING!
This book is hazardous to any other plans you may have! Once picked up, it is nearly impossible to put down.
I had plans to edit 10 pages today but as yet, I've not edited even one. I simply could not put down Huckleberry Christmas once I picked it up!
And I am very glad of it!
I woke from a horrific nightmare this morning (very rare for me these days) and the matchmaking schemes of Anna and Felty were precisely what I needed to distract myself from the yuck!
It never takes more than a paragraph to find myself firmly planted in the story and never more than a page or two before I'm laughing and giggling at the antics of grandparents I truly wish were my very own!
And if those stubborn grandchildren of theirs would stop resisting Anna and Felty… well, the stories would not be nearly so interesting!
Jennifer Beckstrand certainly has found the perfect home in Bonduel, Wisconsin and I – for one – never want to leave!
Every single story is a fast-paced, fun romp through misadventure, misunderstandings and mishaps!
No one writes about Love the way Jennifer does. No one makes me laugh out loud the way she does and no one makes me wish more deeply that I were actually Amish.
Where else but in an Amish community, could you possibly find grandparents as wonderful, young women as feisty and young men as chivalrous!
Anna and Felty are the absolute best of the entire family! They are the ones who pull me into the stories and they are the ones that keep me reading! The youngsters they're matching up are great fun and their community is so very wonderful but it's the deep, heart-felt love that Anna and Felty have for each other that really holds me tight there in Wisconsin and makes me want to walk right into the pages!
I can hardly wait to start the next one!
More from Kensington about Huckleberry Christmas:
Now that they've happily married off two of their grandchildren, Anna and Felty Helmuth are ready for their next matchmaking challenge. What better way to celebrate the most heartwarming of seasons–and make Huckleberry Hill, Wisconsin, the place for unexpected love. . .

A difficult marriage has left the Helmuths' widowed great-granddaughter, Beth, finished with wedlock. She's content to live with them and make a life for herself and her toddler son. But once she turns down handsome Tyler Yoder's proposal, it seems only fair to encourage him to find a suitable wife. Trouble is, his gentleness and generous ways are showing her how joyous a real meeting of hearts can be. . .

After a failed courtship, Tyler thought the best he could hope for in a wife was mere companionship. But spirited Beth is the one he longs to protect, and hold close. Earning her trust is the hardest thing he's ever had to do. And soon, both will discover that forgiveness and understanding are gifts that only rekindled faith–along with the happiest of holidays–can bring.
You can find more information and/or buy the book from these popular sites.
GOODREADS   KENSINGTON   JENNIFER'S WEBSITE
GOD BLESS!
AND
HAPPY READING!
I was provided this book free through Jennifer's street team in exchange for an HONEST review!
(not hard to be honest about how AMAZING her books are!)
Disclaimer: I have no control over the ads you may see below.
I am sorry if any of the content is inappropriate.