A Dream of Home is the 3rd novel in Amy Clipston's "The Hearts of the Lancaster Grand Hotel" series It is scheduled to be released November 4, 2014. Yes, I got an early look! I LOVE being a book reviewer!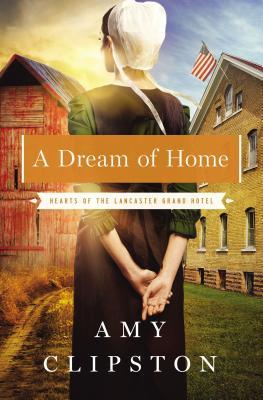 OK… now about the story.
I have to admit that I fell madly in love with Emma in A Mother's Secret and I was nearly heart-broken when things did not go the way she planned…
So of course, I was excited to see her return in
A Dream of Home.
I have never been a combat nurse but there are a few things in my past that occasionally come back to haunt me so I feel a sort of kinship with Madeline Miller.
It also helps that Amy Clipston writes her nightmares so well that you truly feel like you're right there, experiencing it with her.
I did not feel a kinship to Saul Beiler however.
Actually, when I was reading book 2: A Mother's Secret, he nearly knocked Barbie off the pedestal of most disliked characters. He was just so rude and abrupt and… well, annoying.
I NEVER could have imagined that Saul would be remotely interested in a REAL relationship. I was sure he was just one of those controlling and angry men who hide behind their religious convictions.
BOY was I wrong!
I love that Amy Clipston occasionally throws you a crazy curve ball! It keeps her books interesting in a way that not many authors think of.
And I am NOT giving anything away about the story!
You'll just have to read it for yourself! Trust me when I say that it is WORTH a read!
And keep watching! Amy has ANOTHER book coming in this series. It's slotted to release next year.
And I'm sure A Simple Prayer will be just as fantastic as the first three in the series!
Happy Reading!
Here is what Zondervan has to say about A Dream of Home:
Moving to Pennsylvania wasn't in Madeleine's original plans. She should still be in California and should have married her pilot fiance a year ago-but death has a way of changing everything.

Now the former Air Force flight nurse is living alone in Paradise, Pennsylvania, and working as a maid at the Lancaster Grand Hotel. She isn't exactly a widow . . . but she sure feels like one.

Saul Beiler isn't exactly a widower . . . but his wife is long gone. His eleven-year-old daughter, Emma, doesn't know that her mother fled the Amish community-and married another man-but she does know that her dat is lonely, and that a pretty young maedel just moved in next door.

Madeline's numb heart begins to thaw as she spends more time with the innocent and ever optimistic Emma. The stronger her friendship grows with the young girl, the more intrigued Madeline grows about the humble, strong, man raising her on his own.

But even as a strange attraction pulls Saul and Madeleine across a stark cultural divide, they-and everybody else-have to wonder: What could they possibly have in common besides heartache? Will love allow Madeleine to finally find the home she's been dreaming of all along?
Click the links below to find more info and or to buy the book
GOODREADS   ZONDERVAN   AMY CLIPSTON'S WEBSITE
AMAZON   CBD   BARNES & NOBLE   ITUNES
GOD BLESS
and
HAPPY READING!
I received the book free from the BookLook Blogger program
in exchange for an honest review.
Disclaimer: I have no control over the ads you may see below.
I am sorry if any of the content is inappropriate.