I don't know about you but I LOVE Christmas!

It's my favorite Holiday!

And because of that, I am spotlighting Christmas stories during the month of November!

Why November?

So you can go out and buy them in plenty of time to enjoy over your own Christmas holidays!

And have plenty of time to buy extra copies as Christmas gifts too!

Some of the books I plan to review…

(in no particular order)
"Where Treetops Glisten: Three Stories of Heartwarming Courage and Christmas Romance During World War II" by
Tricia Goyer, Cara Putman, Sarah Sundin
The crunch of newly fallen snow, the weight of wartime.
Three siblings forging new paths and finding love in three stories, filled with the wonder of Christmas
Turn back the clock to a different time, listen to Bing Crosby sing of sleigh bells in the snow, as the realities of America's involvement in the Second World War change the lives of the Turner family in Lafayette, Indiana.
In White Christmas by Cara Putman, Abigail Turner is holding down the Home Front as a college student and a part-time employee at a one-of-a-kind candy shop. Loss of a beau to the war has Abigail skittish about romantic entanglements—until a hard-working young man with a serious problem needs her help.
Abigail's brother Pete is a fighter pilot hero returned from the European Theatre in Sarah Sundin's I'll Be Home for Christmas, trying to recapture the hope and peace his time at war has eroded. But when he encounters a precocious little girl in need of Pete's friendship, can he convince her widowed mother that he's no longer the bully she once knew?
In Tricia Goyer's Have Yourself a Merry Little Christmas, Meredith Turner, "Merry" to those who know her best, is using her skills as a combat nurse on the frontline in the Netherlands. Halfway around the world from home, Merry never expects to face her deepest betrayal head on, but that's precisely what God has in mind to redeem her broken heart.
The Turner family believes in God's providence during such a tumultuous time. Can they absorb the miracle of Christ's birth and God's plan for a future?
"An Amish Second Christmas" by Beth Wiseman, Kathleen Fuller, Tricia Goyer and Ruth Reid
When Christmas Comes Again by Beth Wiseman
Katherine Zook and her four children are facing their first Christmas without a loved one, and the future seems dim. But when a mysterious "Englisch" man begins to show up in the most unlikely of places, Katherine can t help but be suspicious . . . and a bit curious.
Her Christmas Pen Pal by Ruth Reid
When Joy Stolzfus' boyfriend tells her he wants to court other women, she's shocked.She pours her heart out in a letter, but it mistakenly reaches Noah Esh. The two begin writing letters back and forth, but a misunderstanding threatens to topple the relationship they're building.
A Gift for Anne Marie by Kathleen Fuller
Anne Marie Smucker's life is pretty perfect. Until she discovers her widowed mother is getting married and they're all moving. On top of that, Anne Marie's relationship with her friend Nathaniel has changed, and she's more confused than ever about her feelings for him.
The Christmas Aprons by Tricia Goyer
Esther Glick bakes a Christmas pie for a fundraiser, and she soon finds herself sitting across from bachelor Ammon Schwartz. Esther receives many orders for pies, but when she breaks her wrist, she discovers what community and love are all about.
"An Amish Christmas Quilt" by Charlotte Hubbard, Kelly Long and Jennifer Beckstrand
With all the warmth of a cozy quilt, three authors stitch together Amish tales of hearts joined, friendships patched, and the bright joys of Christmas tradition . . .
A Willow Ridge Christmas Pageant
Charlotte Hubbard

Seth Brenneman didn't expect his holiday would include rescuing pregnant young Mary Kauffman and her two children. . .or having unexpected feelings for the still-grieving widow. But when they must play the leads in an impromptu live Nativity pageant to help his Amish community, will their roles reveal their hearts–and work a miracle for a lifetime?
A Christmas On Ice Mountain
Kelly Long
Matthew Beider and Laurel Lapp's secret wish to marry is a gift their feuding fathers definitely won't accept. And trying to settle their dats' long-standing quarrel is making their holiday anything but merry. Can rediscovering the joys and friendships of Christmas past finally turn their families' futures bright?
A Perfect Amish Christmas
Jennifer Beckstrand
Anna and Felty Helmuth's grandson, Gideon, plans to spend Christmas on a beach in sunny Mexico. But Anna is quite sure he'd rather be with them, snowshoeing, ice fishing–falling in love. And she knows the perfect girl. Not only is Dottie Schrock an excellent quilter and baker, she's having a party. There's just one complication–Gideon is not invited. Dottie has her reasons, but Anna trusts that the spirit of Christmas–and true love–will change her mind, and her future . . .
Along with this I will be posting a special look-back at Jennifer Beckstrand's "Huckleberry Christmas" – which released on October 7th of this year!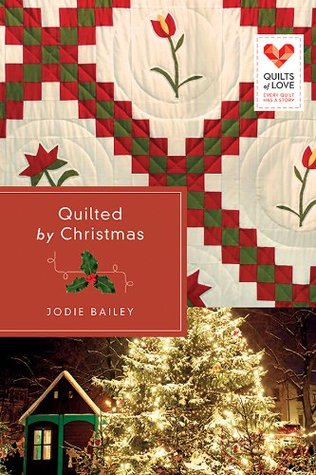 "Quilted by Christmas": Quilts of Love Series (Quilts of Love #22) by Jodie Bailey
A grandmother's last wish is to communicate God's love through an Irish chain quilt.
Taryn McKenna believes she's easy to forget. Abandoned by her parents and left behind when her high school sweetheart joined the army, she vows to never love again and throws herself into her love for the outdoors and the pursuit of a college degree—something no one else in her family has ever accomplished. Her goal, as a young teacher in the hills of North Carolina, is to leave a legacy in the lives of the middle-schoolers she teaches.
When Taryn's grandmother Jemma, the only other person who ever held her close, has a heart attack that reveals a fatal medical condition, Taryn is corralled into helping Grandma work on a final project—an Irish chain quilt that tells the story of her history and the love Jemma knows is out there for Taryn. As the pieces of the quilt come together, Taryn begins to see her value. Can she learn to believe that God will never leave her behind even though others have?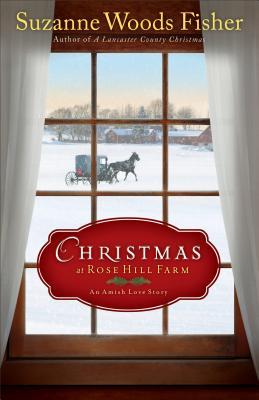 "Christmas at Rose Hill Farm" by Suzanne Woods Fisher
Bess Riehl is preparing Rose Hill Farm for her Christmas wedding, but her groom isn't who she thought it would be.
Billy Lapp is far away from his Amish roots working as a rose rustler for Penn State and wants nothing to do with Stoney Ridge, his family, or Bess. And that suits Bess just fine. Why should she think twice about a man who left without a word, without any explanation? It's time she moved on with her life, and that meant saying yes to Amos Lapp, Billy's cousin and best friend.
But as Bess and Amos's wedding day draws near, her emotions tangle into a tight knot. She loves Amos. Yet she can't forget Billy.When a "lost" rose is discovered at Rose Hill Farm, Billy is sent to track down its origins. Get in, identify the rose, and get out. That's his plan. The only catch is that he's having a hard time narrowing down the identity of the lost rose, and he can't get those tropical blue eyes of Bess Riehl out of his mind.As the history of the lost rose is pieced together, it reminds Bess and Billy–and Amos, too–that Christmas truly is the season of miracles.
Join bestselling, award-winning author Suzanne Woods Fisher for an Amish Christmas to remember. Filled with heart-twisting moments amid the sweet anticipation of love, this story will charm readers into the holiday spirit.
"Forever Christmas" by Robert Tate Miller
This Christmas will change Andrew Farmer's life forever.
Andrew can't remember the last time he spent Christmas away from work. The end of the year is crunch time for literary agents. But when your career is your life, your life starts to suffer . . . beginning with your marriage.
When a heart-wrenching accident in a Christmas Eve snowstorm jars this high-powered agent from his obsession with success, a Christmas miracle will give him a second chance at love, life, and gratitude, but only if he can put aside his own ambition and learn to appreciate each moment.
Sometimes it takes a tragedy to change a man's life–and to teach him to treat every day as if it were his last.
"Christmas at Holly Hill" by Martha Rogers
Can Clayton Barlow prove he has changed his ways in time for Christmas?
It is October 1898, and Clayton Barlow has just returned home after serving time in prison for his part in a bank robbery. His family welcomes him, but the townspeople are skeptical. Bored with life in the small town but determined to make a new start, he goes to work with his father, hoping to regain the town's trust.  Clayton recognizes the schoolteacher at the Prairie Grove School as his childhood friend, Merry Lee Warner, and old feelings surface. Still, he doubts that he could ever get a woman like Merry to love him. As the townspeople prepare for Christmas, their suspicions about Clayton lead to trouble. Will the trusting heart of an unlikely new friend be enough to restore Clayton's relationships with his neighbors and reunite him with God and Merry?
"The Christmas Cat" by Melody Carlson
After years abroad, Garrison Brown returns home to Vancouver to build a new life.
When his beloved grandmother passes away a few weeks before Christmas, Garrison goes to her house to sort out her belongings, including six cats who need new homes. While Garrison hopes to dispense with the task quickly, his grandmother's instructions don't allow for speed.
She has left Garrison with some challenging requirements for the future homes of her furry friends–plus a sizeable monetary gift for the new owners. Garrison's job is to match the cats with the right owners without disclosing the surprise gift.
Along the way, he may just meet someone who can make him stay.
Humorous and heartwarming, this latest Christmas story from bestselling author Melody Carlson is the perfect gift for pet lovers and anyone in whose heart Christmas holds a special place.

"The Christmas Light" by Donna VanLiere
In the small town of Grandon, five very different people discover the true meaning of Christmas.
Jennifer and Ryan are both single parents, struggling with their own losses and heartache as they attempt to move forward in the present while still holding onto the memories, joy, and heartache of the past.
Sixteen-year-old Kaylee is faced with a life-changing situation that has affected her whole family.
Stephen and Lily are happily married and ready to start a family.
All of them are facing their own struggles, and all are finding their way through the dark. When they are brought together for a rather unconventional church Nativity, they will learn that with strength, courage, and love, there is always hope.
The New York Times bestselling author of the beloved The Christmas Hope series returns with this new heartwarming, inspirational story about the power of love and faith to reveal the possibilities that lay right in front of you.

"Clara's Wish: An Amish Christmas Romance" by Beth Shriver
In this Amish Christmas romance, Lizzy Ryder discovers that this holiday season could be her best friend's last. Will she find the comfort and love she desperately needs?

DO you have a Christmas book releasing soon?
Want to add it to the spotlight?
Let me know… CONTACT ME

And watch for the reviews for these GREAT books AND MORE
COMING IN NOVEMBER!