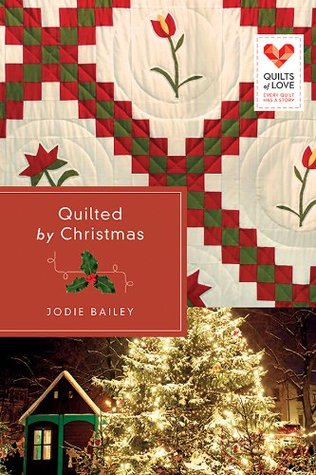 Quilted By Christmas is one of those books I just LOVE to read at this time of year.
It always makes – those of us who have struggled with a difficult past – feel better to know that we are NOT alone.
It holds a particularly strong attraction for me since I have been right where Taryn was… OH SO MANY TIMES…
There are very few people in this world who had a "perfect" childhood and even less who don't at leasy know someone who had a rough time as some point in their life – so I believe almost everyone who reads this book will be able to identify with Taryn in one way or another.
I have also had some experience with the main conflict in this story – when your past comes back and tries to drag you back down.
Jodie handles this extremely well, giving you a look at the emotions and turmoil that go along with the experience.
And if Jodie is not drawing from personal experience in this very same matter, I certainly can't tell!
One way or another, she is a FANTASTIC author and she has written a stellar book – not one I would have thought of as a Christmas story – but it really fits! 
And I believe it will give readers an unexpected lift this Holiday season!

Here's what GoodReads has to say about… 
"Quilted by Christmas": Quilts of Love Series (Quilts of Love #22) by Jodie Bailey
A grandmother's last wish is to communicate God's love through an Irish chain quilt.
Taryn McKenna believes she's easy to forget. Abandoned by her parents and left behind when her high school sweetheart joined the army, she vows to never love again and throws herself into her love for the outdoors and the pursuit of a college degree—something no one else in her family has ever accomplished. Her goal, as a young teacher in the hills of North Carolina, is to leave a legacy in the lives of the middle-schoolers she teaches.
When Taryn's grandmother Jemma, the only other person who ever held her close, has a heart attack that reveals a fatal medical condition, Taryn is corralled into helping Grandma work on a final project—an Irish chain quilt that tells the story of her history and the love Jemma knows is out there for Taryn. As the pieces of the quilt come together, Taryn begins to see her value. Can she learn to believe that God will never leave her behind even though others have?
You can also click below to find out more about/buy the book!
GOODREADS   ABINGDON   QUILTS OF LOVE   JODIE'S WEBSITE
AMAZON   CHRISTIANBOOK   BARNES & NOBLE   ITUNES
And be sure you check out the Giveaway sponsored by LITFUSE
(Who provided this book to me for FREE in exchange for an honest review)
GOD BLESS
and
HAPPY READING!
Disclaimer: I have no control over the ads you may see below.
I am sorry if any of the content is inappropriate.