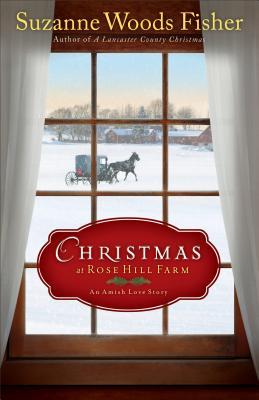 Suzanne Woods Fisher is, by far and away, one of my absolute favorite authors!
She wasn't always…
The first book of hers that I read, annoyed me and I actually stopped reading it. Then I realized, after reading another, that it wasn't the book that was annoying me – I was feeling what the character was feeling… COMPLETELY!
I get into books but I very rarely get into them quite like that!
WOW!
And Christmas at Rose Hill Farm was no exception! I was pulled into the story immediately and I LOVE it!
I feel confident that everyone who reads it will feel the same way! And they will immediately want to go out and snatch up every other book she has written.
THANKFULLY she has written quite a few. And there are more coming all the time!
I love the idea behind this story too. Before I picked up Christmas at Rose Hill Farm, I had no idea what a "Lost" Rose or  Rose Rustler even were! And Suzanne uses this wonderful story to teach us not only the meaning of those two things, but the powerful pull and strength of love – across distance and time!
GREAT Read any time of year! But especially wonderful to curl up with at Christmastime.
More from Thomas Nelson about Christmas at Rose Hill Farm:
Bess Riehl is preparing Rose Hill Farm for her Christmas wedding, but her groom isn't who she thought it would be.

Billy Lapp is far away from his Amish roots working as a rose rustler for Penn State and wants nothing to do with Stoney Ridge, his family, or Bess. And that suits Bess just fine. Why should she think twice about a man who left without a word, without any explanation? It's time she moved on with her life, and that meant saying yes to Amos Lapp, Billy's cousin and best friend. But as Bess and Amos's wedding day draws near, her emotions tangle into a tight knot. She loves Amos. Yet she can't forget Billy.

When a "lost" rose is discovered at Rose Hill Farm, Billy is sent to track down its origins. Get in, identify the rose, and get out. That's his plan. The only catch is that he's having a hard time narrowing down the identity of the lost rose, and he can't get those tropical blue eyes of Bess Riehl out of his mind.

As the history of the lost rose is pieced together, it reminds Bess and Billy–and Amos, too–that Christmas truly is the season of miracles.
You can find more information and/or buy the book from these popular sites.
GOODREADS   BAKER PUBLISHING/REVELL   SUZANNE'S WEBSITE
CHRISTIANBOOK   LIFEWAY   AMAZON   BARNES & NOBLE   ITUNES
GOD BLESS!
AND
HAPPY READING!
Disclaimer: I have no control over the ads you may see below.
I am sorry if any of the content is inappropriate.