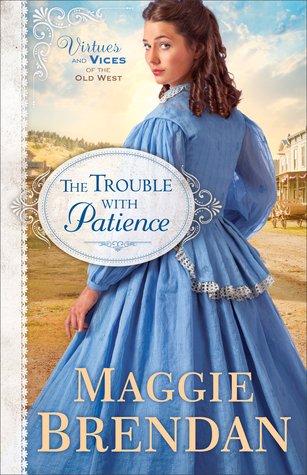 I reviewed this book almost two weeks ago now and I am still amazed at just how great a read it was!
Be sure to check out Maggie's other books too! I know I will be!
Patience Cavanaugh is precisely how I picture a Texas woman from the novel's era. Maybe even from any era…
The Trouble With Patience by Maggie Brendan is a MUST READ!
From the amazingly eye-catching cover to the absolutely unforgettable characters – this novel is one you'll be thrilled to add to your library.
This is my first book by Maggie Brendan and it has most definitely sparked my interest. I can hardly wait to go and find more fantastic books by this talented author!
Maggie Brendan weaves an intriguing story around realistic characters while still filling the pages with intricate details and story tidbits that make this a very real story!
There is hardship… yes – No Wild West story would be complete without it. There is also quite a bit of friction between our hero and heroine – again, what romance would be complete without it…
Virtues and Vices of the Old West – a PERFECT name for this series in my opinion.
BRAVO Maggie!
A Texas women, a dilapidated boardinghouse, a small-town Sheriff – a recipe for romance…? – Tweet this!
Patience Cavanaugh has lost faith in love – can Jedediah Jones change her mind? – Tweet this!
DON'T MISS this great NEW Texas romance by Maggie Brendan! – Tweet this!
© JCMorrows 2015
GOODREADS   REVELL   MAGGIE'S WEBSITE
I was blessed to receive a review copy of this book.
The opinion stated is my own.
Happy Reading
And
GOD BLESS!
Disclaimer: I have no control over the ads you may see below.
I am sorry if any of the content is inappropriate.