Oh yeah! Give me a book about coffee and miracle… I'm in!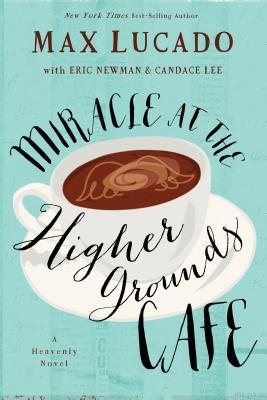 I know his work from the myriad of children's stories I've read to my kiddos.
I also know him from his work on the children's show – Hermie and friends.
But I had no idea really what to expect from Miracle at the Higher Grounds Cafe.
What a wonderful story of the power of prayer!
A lot of people think stories of God's miraculous power only belongs in the Bible… or in a fictional story.
But I know that God performs miracles NOW… every day! I've witnessed them. I been a recipient of them.
I've watched them change lives and heal people… not just of sickness but of broken hearts and spirits.
Clearly Max Lucado has also experienced God's miraculous power!
Miracle at The Higher Grounds Cafe is exactly what the cover says… "A Heavenly Novel"! WONDERFUL!
Not a book you want to miss!
Give me a book about coffee and miracle… I'm in! – Tweet this!
Have you bought your copy of Max Lucado's NEWEST book yet – Miracle at The Higher Grounds Cafe? – Tweet this!
Review © JCMorrows 2015
Here's a bit more about Miracle at The Higher Ground Cafe from Thomas Nelson:
What if you could ask God anything? What would you ask? And how would he answer?

Chelsea Chambers is on her own. After a public split from her NFL superstar husband, Chelsea takes a bold step out of the limelight and behind the counter of the Higher Grounds Café, an old-fashioned coffee shop in dire need of reinvention. But when her courage, expert planning, and out-of-this-world cupcakes fail to pay the bills, this newly single mom finds herself desperate for help. Better yet, a miracle.

Then a curious stranger lands at Chelsea's door, and with him, an even curiouser string of events. Soon, customers are flocking to the Higher Grounds Café, and not just for the cupcakes and cappuccino. They've come for the internet connection to the divine. Now the café has become the go-to place for people in search of answers to life's biggest questions.

When a catastrophe strikes and her ex comes calling, Chelsea begins to wonder if the whole universe is conspiring against her quest to make it on her own. After a shocking discovery opens her eyes to the unseen world around her, Chelsea finds the courage to ask, and heaven answers in a most unexpected way.
You can find reviews and links to purchase this fabulous series by clicking the links below!
GOODREADS   THOMAS NELSON   LIFEWAY   MAX LUCADO'S WEBSITE
GOD BLESS
and
HAPPY READING!
I was blessed to receive this book free in exchange for an honest review!
Disclaimer: I have no control over the ads you may see below.
I am sorry if any of the content is inappropriate.