WOW! I like Jess and Jep's story!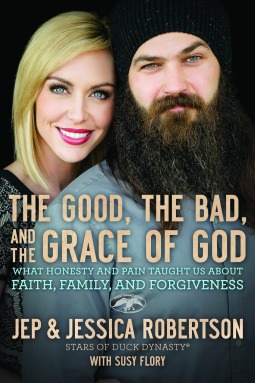 I really had no idea what to expect… I like what I've heard so far – about the Robinson clan. And after reading this book, I feel like I know them much better. If you're a fan of Duck Dynasty, you know Jep, the youngest Robertson son, and his wife Jessica. They tell their stories to give encouragement to those who have struggled.
I enjoyed reading about them… as they each take turns telling their story, beginning with their childhood and teenage years, not holding back on the bad stuff, but putting it out there to share with us. Most people will be able to identify with some of the problems that Jess and Jep went through.
They share their insecurity, secrets, addictions – even a divorce. Learning what they went through certainly made me feel like I knew them better; I could easily picture them at times, going through some of the same problems that many of us go through.
But the point is – Jess and Jep both overcame their problems – with the help of God and their families. Jep and Jessica tell about their insecurities, as well as their realization that God loves us all just as we are — even with all our secrets and sins.
Duck Dynasty fans should definitely read The Good, the Bad, and the Grace of God.
Here is a brief synopsis from Thomas Nelson:
A Moving Story of Redemption and Second Chances

 

Jep Robertson, the youngest son of Duck Commander Phil Robertson, and his wife, Jessica, open up about their personal trials, their early years together, and the challenges that might have destroyed them both had the grace of God not intervened. Jep describes being molested as a child and his reluctance to tell anyone until only a few years ago, his downward spiral into drug and alcohol abuse, and the eventual intervention of his family. Jessica shares about the difficult failure of her first marriage while still a teenager and the hurt that came along with it, much of it from the church. Her insecurities spun out of control as she wondered whether she would ever be good enough or pretty enough. This book is their love story but, more importantly, their love story for God.

"We are desperate to let people know that no matter what you've done; no matter what you've lived through, you can come out of it.  You can be washed clean.  You are redeemed."
In the meantime, you can click the links below to find more info about this amazing book:
GOD BLESS
and
HAPPY READING!
Disclaimer: I have no control over the ads you may see below.
I am sorry if any of the content is inappropriate.