I am thrilled to have the final installment… but lamenting the fact that this AMAZING series is over! How will I go on…
How do I review this book without giving anything away…?
How can I go back and read it all over again – for the first time!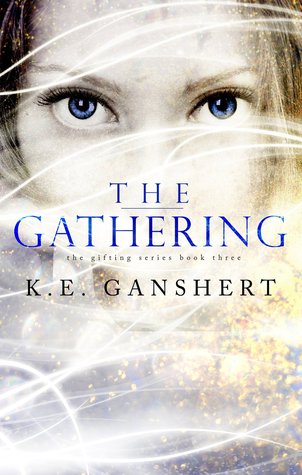 "How do I even begin to tell you what this book meant to me… what this series meant to me?"
K.E. Ganshert is an incredibly, amazingly, beautifully gifted author. She writes stories in a way that makes you feel as if you're living them. She writes worlds as if there is no other. She writes characters in such a way that it feels as though you're reading yourself – you slip into the character's skin as easily as you slip into a pool of water. I fully expect to look up and see Rosie sitting across from me with those puppy-dog eyes, begging for the rest of my dinner.
But the best thing about this series… Unlike many YA dystopian, speculative and supernatural novels on the market today – it does not erase hope. It does not give us a bleak outlook of a world where we have to lose almost everything to win, or a world where only by stripping us down to almost nothing – can we survive.
The Gifting series GIVES us hope! It gives us hope for tomorrow… hope for today… hope for forever.
I do not recommend many of the YA series that are so popular today but I feel very strongly that this is a series EVERYONE should read!
And by the way… I receive a lot of books free in exchange for an honest review. Not this one – this was a book I purchased. Actually it was pre-ordered for me by my AWESOME mom, because I was so frantic to read it ASAP – which you can see… I have done!
And I had to share my opinion with you – my readers!
And also laugh hysterically because there are probably a dozen traditional publishers who are grinding their teeth in frustration that they missed the chance to make a TON of money off this series!
HA HA HA!
"How can I go back and read it all over again – for the first time!" – JC Morrows – Tweet this!
Review © JCMorrows 2015
GOODREADS | AMAZON | ITUNES | K.E. GANSHERT'S WEBSITE
A bit more about The Gathering via Amazon:
Darkness is a tricky thing. Especially when it cloaks itself in light.

Luka isn't dead. He's not beyond saving. Tess knows because she saw him with her own eyes. After what she saw, she's sure of one thing: If they don't rescue him soon, Luka won't be Luka anymore.

If only she could convince the other members of the hub. They're not sure Tess saw what she claims she saw. And they're preoccupied by the fact that their kind is being systematically eradicated. Answers lie in an ancient prophecy, one that revolves around a seventeen-year-old girl who never asked for any of this.

K.E. Ganshert's final installment in The Gifting Series brings readers on an action-packed journey through loss, sacrifice, betrayal, and the impossible choice between what we want most and what we know is right.
Darkness is a tricky thing. Especially when it cloaks itself in light. – Tweet this!
DO NOT MISS THIS SERIES!