A couple of these titles have already been released and I simply have not had the time to get to them yet. Most of them release soon and I am excitedly looking forward to them! (And if you want a more comprehensive look at my to-read pile, click on the GoodReads widget you see over there and it will take you to the page where I regularly add books there!)
I won't promise to update this every week but I will do my best to update as often as possible!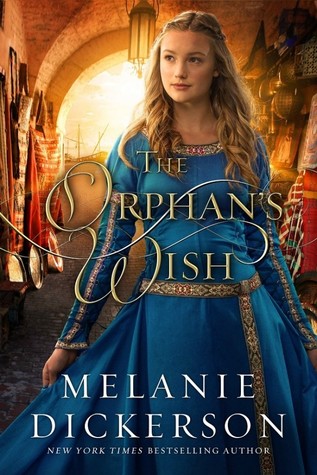 The Orphan's Wish
(Hagenheim Family #8)
By Melanie Dickerson
From the streets to an orphanage in a faraway kingdom, Aladdin has grown up alone. Until he meets Kirstyn.
With a father who is the duke of Hagenheim and a mother who is the patroness of the orphanage where Aladdin lives, Kirstyn is a member of the most powerful family in the land . . . and way out of his league. Despite the difference in their stations, Aladdin quickly becomes Kirstyn's favorite companion for taking walks in the forest, and their childhood friendship grows along with them.
Through his scrappy skills, intelligence, and hard work, Aladdin earns a position serving in the duke's house. But he knows it isn't enough to grant him his one desire: Kirstyn's hand in marriage. If he hopes to change his station in life and feel worthy of marrying Kirstyn, he must leave Hagenheim to seek his fortune.
But once Aladdin leaves, no one is around to protect Kirstyn, and the greedy men desperate to take advantage of her father's wealth take notice. Now, more than Aladdin's background stands in the way of the future he's worked so hard to obtain. His only hope is to rescue Kirstyn and somehow manage to win her hand as well.
Chocolate Truffle Mystery
(Amish Sweet Shop Mystery series # 5)
By Naomi Miller
In the small town of Abbott Creek, mystery is as much a part of daily life as The Sweet Shop's sugar cookies.
The Sea Before Us
(Sunrise at Normandy – book 1)
By Sarah Sundin
In 1944, American naval officer Lt. Wyatt Paxton arrives in London to prepare for the Allied invasion of France. He works closely with Dorothy Fairfax, a "Wren" in the Women's Royal Naval Service. Dorothy pieces together reconnaissance photographs with thousands of holiday snapshots of France–including those of her own family's summer home–in order to create accurate maps of Normandy. Maps that Wyatt will turn into naval bombardment plans.
As the two spend concentrated time together in the pressure cooker of war, their deepening friendship threatens to turn to love. Dorothy must resist its pull. Her bereaved father depends on her, and her heart already belongs to another man. Wyatt too has much to lose. The closer he gets to Dorothy, the more he fears his efforts to win the war will destroy everything she has ever loved.
The tense days leading up to the monumental D-Day landing blaze to life under Sarah Sundin's practiced pen with this powerful new series.
Home on Huckleberry Hill
(The Matchmakers of Huckleberry Hill #9)
By Jennifer Beckstrand
Huckleberry Hill, Wisconsin's irrepressible eighty-something matchmakers Anna and Felty Helmuth are at it again. And this time they're willing to rough it to get the job done…
Mary Anne Neuenschwander knows she should be content with what Gotte has given her. She has a comfortable house, a fruitful farm, and a good, steady husband. But after nearly six years of marriage, she still longs for a baby. Yet her husband, Jethro, seems to care more about fishing than about his wife. Unable to bear Jethro's indifference, Mary Anne moves into a tent in the woods where he won't have to be bothered. But when her mammi and dawdi find out what she's done, they'll stop at nothing—including a little camping trip of their own — to help save their granddaughter's marriage…
Jethro's greatest blessing is his beloved wife, Mary Anne. Nothing else in his life has turned out anywhere near the way he expected. Rather than burden Mary Anne with his disappointment, he shields her by spending less and less time at home and more time on the river. But when he finds that she's moved out, he's shocked. What will people think? What is Mary Anne thinking? And what clever plans are her grandparents hatching?
The Love Letter
By Rachel Hauck
With the colonies at war and his country divided, Hamilton Lightfoot must choose sides: Fight for the British Crown or for the Independence of America. But after witnessing the death of his family at the hands of redcoats, he fears he'll fight for revenge instead of honor. On the verge of a great battle, he pens a letter to Esther, the woman he loves.
Esther Longfellow is in love with Hamilton, but her father is a loyalist, living in upcountry South Carolina and working for a wealthy British lord. When the Revolutionary War comes to her doorstep she is forced to choose between devotion to her father and her love for Hamilton.
Chloe Daschle is the daughter of Hollywood royalty—a great director and an Oscar-winning actress. Yet her career has taken an unexpected turn: She's the queen of death scenes. Trying to break out, she accepts a supporting role in a revolutionary war film. But she longs for the perfect role and the perfect real-life romance. Does happily ever after only exist in the movies?
After a life-changing tragedy, MIT graduate Jesse Gates decides to leave his life behind and move to LA to try his hand at acting and screenwriting. When he finds a page from one of his ancestor's letters, he becomes consumed with the love he finds there. Determined to help his grandfather find happiness at the end of his life, Jesse writes and sells a screenplay based on the events surrounding the lost love of previous generations.
When Jesse meets the woman he has cast to play Esther Longfellow—his grandfather's one true love—the stories of all four collide across time and space. The love letter from the past might have more power to affect the future than any of them could have imagined.
The Accidental Guardian
(High Sierra Sweethearts #1)
By Mary Connealy
Trace Riley has been self-appointed guardian of the trail ever since his own wagon was attacked. When he finds the ruins of a wagon train, he offers shelter to survivor Deborah Harkness and the children she saved. Trace and Deborah grow close working to bring justice to the trail, but what will happen when the attackers return to silence the only witness?
Beneath a Prairie Moon
By Kim Vogel Sawyer
Readers rabid for the sweet historical romances of Tracie Peterson and Tamara Alexander will flock to Kim Vogel Sawyer's prairie-set heartwarmer of a pair of opposites destined for love.
Estelle Brantley grew up in affluence and knows exactly how to behave in high society. But when she is cast from the social registers due to her father's illegal dealings, she finds herself forced into a role she never imagined: tutoring rough Kansas ranchers in the subjects of manners and morals so they can "marry up" with their mail-order brides. Mack Cleveland, whose father was swindled by a mail-order bride, wants no part of the scheme to bring Eastern women to Spiveyville, Kansas, and he's put off by the snooty airs and fastidious behavior of the "little city gal" in their midst. But as time goes by, his heart goes out to the teacher who tries so diligently to smooth the rough edges from the down-to-earth men. How can he teach her that perfection won't bring happiness?
---
And yes… I'm quite sure there are a lot more but these are the ones publishing soon that actually have a picture and a projected publish date and it seems silly to post vague hints with no real information.
So watch for me to update!
GOD BLESS! and HAPPY READING!
~ JC Morrows
© JCMorrows 2015