OK… yes, I did. I read through books 1, 2 and 3 AGAIN!
I can't help myself. They're SOOOO fantastic!
And now I have to figure out how to come back down to earth.
It is the worst sort of book hangover possible – being forced to deal with reality, when you've been enveloped in a world all its' own… a world that is decidedly not your own.
Speculative and Supernatural story-lines are the most difficult because the writer truly does create a different world for you to visit when you pick up the book.
Coming back to reality is difficult – or at least, it is when the author is as amazingly talented as K.E. Ganshert!
"If science is right, then I am crazy. And crazy is dangerous." – K.E. Ganshert – Tweet this!
GOODREADS | AMAZON | ITUNES | K.E. GANSHERT'S WEBSITE
USA TODAY ARTICLE
As an author myself, I worry that my own worlds are nowhere near as fantastic as hers.
As a reader, I hope and pray to have many more amazing stories like this from K.E. Ganshert because…
While I enjoy being in my own imaginary worlds – it is a very different experience to be able to immerse yourself in someone else's world.
It's freeing because you don't know the plot going in. It's exciting because you don't know what's going to happen next.
It's terrifying because you get attached to these people you did not make up – you have no control over what happens to them or where the story takes them… but YOU HAVE TO KNOW!
And like so many other series that I have fallen absolutely in love with… I bugged my mum until she read them. She was happy to have all three so she could read them sequentially.
And… after reading them, she is just as hooked as I am but for different reasons. The things about this series that appeal to me, that drew me in, that hooked me from the second chapter of book 1 – do not have the same effects on her… not in the same ways and not for the same reasons.
"I can't go home. It's not safe. Nowhere is." – K.E. Ganshert – Tweet this!
GOODREADS | AMAZON | ITUNES | K.E. GANSHERT'S WEBSITE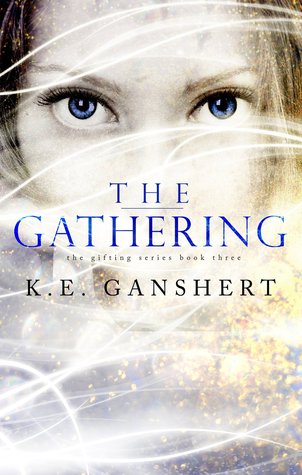 My mother and I do agree on one thing where these books are concerned though, but for totally different reasons… actually that's not true. Once I explained my reasoning, she agreed 100% with me about it… but she's still holding on to her reason too.
What am I talking about?
Well…
K.E. mentioned in her dedication – that her brother is holding on to the determination that this series of hers will be made into a movie.
After reading only two of the books in the series, my mum said the same thing.
What she said was something along the lines of – "Yeah, I can see them making a movie from these books."
I agreed and then started to say why I would never watch it – but she presented her reasoning first and then I got distracted by one of the kiddos so I never got around to my reasoning until this morning.
My reasoning is this; no matter who the director is… no matter who the actors are… no matter who does the soundtrack (which could ONLY be truly epic if James Horner were still with us) – there is absolutely, positively NO WAY any movie could even begin to compare with the world in my head!
It's simply not possible!
And we have both learned this lesson the hard way… many times. No movie is ever as fantastic as the world we build inside our imagination.
And sadly… the world loses a little something after we watch a less-than-perfect movie.
It is as if something precious has been taken from the vision we have in our mind. It's a little less… real… to us, than it was before.
I DO NOT want that for this series!
I pray, fervently, that the series WILL be made into a movie – and when it is, I will encourage a lot of people to go and watch it… especially anyone who needs God in their life!
"Darkness is a tricky thing. Especially when it cloaks itself in light." – K.E. Ganshert – Tweet this!
GOODREADS | AMAZON | ITUNES | K.E. GANSHERT'S WEBSITE
BOOK or MOVIE – DO NOT MISS THIS SERIES!
And yes, I'm still laughing hysterically because there are probably a dozen traditional publishers still grinding their teeth in frustration that they missed the chance to make a TON of money off this series!
HA HA HA!
©JCMorrows 2015