SOOOOO long I've waited for this book…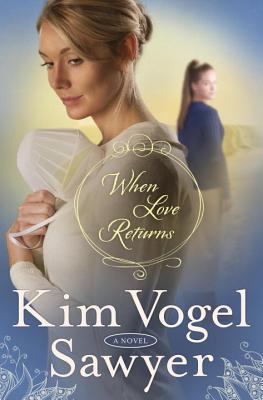 It was TOTALLY worth the wait too!
And so aptly named too! WOW!
When I picked up book 1 of this series, I did not think I would enjoy reading about the old-order Mennonites as much as my beloved Amish, but the way Kim writes them…
WOW!
The series is named: The Zimmerman Restoration series – and WOW! WOW! WOW! Kim could not have named it better!
Healing begins with book 1 – and with book 3, well… I don't want to spoil it for you, but it is a MUST READ!
I can hardly wait to get my hands on another book Kim has written!
If you're anything like me… you won't want to put this book down.
© JCMorrows 2015
More from Water Brook about When Love Returns:
Riddled with doubt and lingering regrets, will Suzanne and Paul find strength in God to explore a second chance at love?

It wasn't easy to move back to the Old Order Mennonite community from which quiet, responsible Suzanne Zimmerman was shamefully sent away as a pregnant teen. Returning twenty years later to take care of her mother, Suzanne and Alexa—the daughter she raised as her own—have spent months rebuilding relationships with her family.

Now with the upcoming wedding of their biological daughter, Suzanne and Paul find themselves drawn to one another once again—but with new challenges to face. They have been single parents with painful pasts. Can Paul and Suzanne find the strength to rebuild the loving relationship that was torn apart by their teen pregnancy so long ago?

Suzanne must also let go of Alexa as she heads back to Indianapolis to visit friends–and as her chance to find her birth parents. Leaving the bed-and-breakfast in Suzanne's apprehensive hands, Alexa embarks on a journey that will certainly change her life completely. Can mother and daughter trust God to restore all things in His timing?
You can find more information and/or buy the book from these popular sites.
GOODREADS   WATERBROOK   KIM'S WEBSITE
GOD BLESS!
AND
HAPPY READING!
 I was blessed to receive a review copy of this book in exchange for an honest review.
All opinions are entirely my own.
Disclaimer: I have no control over the ads you may see below.
I am sorry if any of the content is inappropriate.