AMAZING!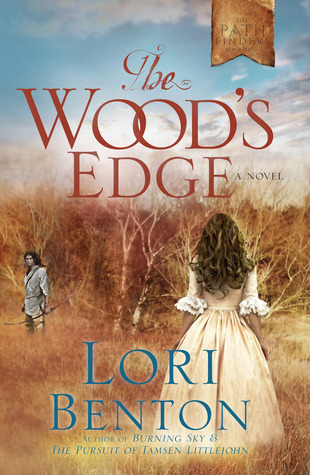 Simply amazing!
Lori Benton excels at writing fiction taken from REAL events! It is a singular talent that God has blessed her with and the world is a richer place for having her work out in it.
What is even more amazing is that, Lori and other authors like her have drawn me in to the past and taught me so much that I never learned in school.
No dry textbook this… No, this is a living, breathing, vibrant story that will hold you entranced until the very last page!
Don't miss it! And don't miss her other books!
Lori has quite a long list of amazing books to her name and I'm certain her fans will demand many more to come!
I hope you'll give this wonderful book a chance. I'm certain you'll enjoy it as much as I did!
Review ©JCMorrows 2015
Here is a brief synopsis from WaterBrook/Multnomah:
At the wood's edge cultures collide. Can two families survive the impact?

The 1757 New York frontier is home to the Oneida tribe and to British colonists, yet their feet rarely walk the same paths.

On the day Fort William Henry falls, Major Reginald Aubrey is beside himself with grief. His son, born that day, has died in the arms of his sleeping wife. When Reginald comes across an Oneida mother with newborn twins, one white, one brown, he makes a choice that will haunt the lives of all involved. He steals the white baby and leaves his own child behind. Reginald's wife and foundling daughter, Anna, never suspect the truth about the boy they call William, but Reginald is wracked by regret that only intensifies with time, as his secret spreads its devastating ripples.

When the long buried truth comes to light, can an unlikely friendship forged at the wood's edge provide a way forward? For a father tormented by fear of judgment, another by lust for vengeance. For a mother still grieving her lost child. For a brother who feels his twin's absence, another unaware of his twin's existence. And for Anna, who loves them both—Two Hawks, the mysterious Oneida boy she meets in secret, and William, her brother. As paths long divided collide, how will God direct the feet of those who follow Him?
In the meantime, you can click the links below to find more info on this last book:
GOODREADS   WATERBROOK/ MULTNOMAH   LORI'S WEBSITE
GOD BLESS
and
HAPPY READING!
,I was blessed to receive a copy of this book free in exchange for an honest review.
Disclaimer: I have no control over the ads you may see below.
I am sorry if any of the content is inappropriate.